CTRBooster Tutorials & Best Practices
Please READ This First!
A lot of information on this page has changed! A LOT! We can't keep updating it here all of the time because it sometimes changes on a DAILY basis due to Google. This statement relates to PROXIES more than anything!

After years and years of having to recommend one proxy provider, then another, only to find out their proxies have been fingerprinted by Google, we decided to start our own proxy service; Turboproxy.com.

We started this service for CTR Booster and Session Splitter customers specifically! We wanted to be sure that our customers would ALWAYS have quality proxies available Turboproxy is the ONLY proxy service that we are able to recommend.

Any other proxy "deals" or offerings you may see on this page or otherwise (including in videos) are LONG dead and no longer applicable.

CTR Booster Facebook Group
Please Please, Please join the Facebook group for updated info, it is a VERY active group.
(1) CTRBooster Video Tutorial
NOTE: Do not run the software from the Zip File
 Direct Video Link: https://www.youtube.com/watch?v=zKN3ct7bz90
CTR Booster is now installed with a standard executable install file.
(2) CTRBooster – Best Practices and Usage Tips 
 Direct Video Link: https://www.youtube.com/watch?v=whwPH5ZVqnw

(3) CTR Booster – Best Practices and Usage Tips (Video 2)  
 Direct Video Link: https://www.youtube.com/watch?v=OsKg5IwHuRU

(4) CTR Booster – Enterprise Video Tutorial 
(Please be sure to watch the recent Video update further below as it changes the way we work with referrers and adds new backlink visits features)
 Direct Video Link: https://www.youtube.com/watch?v=lIWPZbHqXD0

(5) CTRBooster – Working with the Syndication Features 
 Direct Video Link: https://www.youtube.com/watch?v=8Bpekrlp0vs

(6) Update – Private Proxies & Internal Links Excluding URLs 
Update date: April 7, 2019
 Direct Video Link: https://www.youtube.com/watch?v=ejxkv9PEjpU

(7) Update – Referrer Changes + New Backlink Visits 
Update date: April 11, 2019
 Direct Video Link: https://www.youtube.com/watch?v=XUqPtIb-CcA

(8) Update – Assign Proxy to Projects, Min Max Daily Visits + More 
Update date: April 15, 2019
 Direct Video Link: https://www.youtube.com/watch?v=4hHGyS_fkcU

(9) Update – Disable Images, Play Embedded YouTube Videos, Clone Project & Exclude Directories (internal links) 
Update date: April 21, 2019
 Direct Video Link: https://www.youtube.com/watch?v=T7NpSns_YgA

(10) Update – Changing Viewports & Start sites 
Update date: April 25, 2019
 Direct Video Link: https://www.youtube.com/watch?v=ptDA4bOi-Os

(11) Update – Add custom Geo Locations and Mixed user agents 
Update date: June 4, 2019
 Direct Video Link: https://www.youtube.com/watch?v=fc1nUP61eqM

System Requirements & Support
System Requirements
———————-
It's important the computer that runs CTRBooster has the .net 4.8 frameworks installed and is updated!
This program runs under:
– Windows 7 & up or a Windows Emulator/VPS
– Requires .Net Framework 4.8 full version
https://dotnet.microsoft.com/en-us/download/dotnet-framework/net48

Getting Setup with CTRBooster
1. Download the zip file from the license email and create a folder on your PC.
Right-click on the zip file and select extract. Execute the installation file.
2. When you run the software, we suggest to right click and select to 'Run as Administrator
(is only required once)
3. Please make sure your firewall or anti-virus isn't blocking the software in any way.
A .net version warning can sometimes just be the firewall blocking the software or update process.
4. Entered your license details exactly as shown in your license email. If you bought through Turboware (all purchases from Feb 2022 forward), you only need the Turboware license key.
NOTE: Download & License details have been sent to the email you made payment from.
If you have problems getting the software download link, please email
[email protected]
.
Upgrading to Enterprise
NOTE: This is for users who have Expert and want to upgrade to Enterprise
———————-
PLEASE TAKE NOTICE
Upgrading to Enterprise is an additional one-time fee**, and the monthly fee will remain the same as Expert.
Total software cost is the purchase of Expert + the cost of upgrading to Enterprise.
Some users have upgraded and requested to refund the Expert front end
to only pay the upgrade; this is NOT correct; the cost is BOTH licenses together
(** NOTE: Pricing plans are subject to change, but any prior purchases are
grandfathered in. So if we change to a monthly/annual plan in the future, current
license holders will not be subject to pay).
All Expert users can request to upgrade to Enterprise by making a request for an upgrade link
to [email protected]
(please include license info to speed request)
– AFTER UPGRADING –
You will get a new license to activate the Enterprise features.
You do not need to reinstall anything, but you can back up your software folder (which is recommended
to do regularly anyway).
Shut down the software and delete the Lic. Key file from the folder you have CTRBooster
setup in. Then right-click to run the main exe as administrator. It will prompt for the
license, and you enter the Enterprise license details.

Troubleshooting Software Issues
Always run the main CTRBooster.exe by right-clicking and selecting 'run as administrator to avoid permission issues. Please avoid setting up the software under Program Files because some users on a Windows computer may not have full permissions so it's recommended to create a folder under Documents or the Desktop.
Please give the software permission to connect to the internet by a firewall and/or anti-virus/malware software. Some protective software may label the software as a false positive and quarantine it. So you will need to be sure that CTRBoosterd.exe, as well as the AutoUpdate.exe (used when we send out upgrades to the software), are not being blocked.
If you are seeing this .net error message below, please check if the software is blocked or quarantined first. If that doesn't work, then you can look at it being a .net issue, but we've seen in most cases that this comes up with the software being blocked by something such as Windows Defender, which most machines/VPS have ON as default.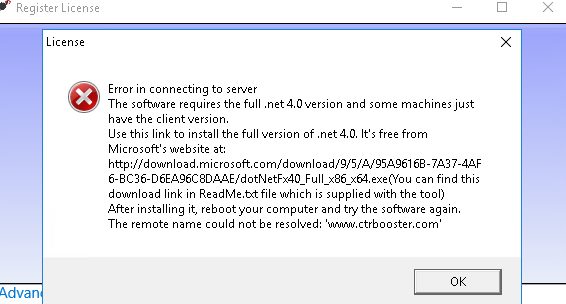 Ways to Fix Common Issues
1. Test without proxies on to be sure they are not causing the issue.
2. If it's working, then please look into your proxies settings and also make sure the proxies are
authorized for the computer IP address you are using the proxies from.
_______________________________________________________________
Projects run for a while but then Stop.
If you are working with Search and click projects and your website is not found after three consecutive attempts, then the project will stop. Projects get stopped because websites are not being found for their keywords. (Please note a new feature is being added that will allow you to control after how many consecutive failed attempts a project should be stopped)
If working with maps, then each project already has a control that allows you to set the Google map retries.
In such a case, you should check your websites are ranking for your keywords (the CTRBooster can check up to 10 pages inside of the search engines – this is controlled by using the "max pages" setting, which can be found near the "concurrent threads" and "google results per a page" settings.
_________________________________________________________________
Please Check Out Session Splitter while you are at it. It's the number one safe browsing tool used By SEOs across the globe and was designed specifically for people managing multiple GMBs, Social Media Profiles, etc.
Click on any of the products below to see our other products!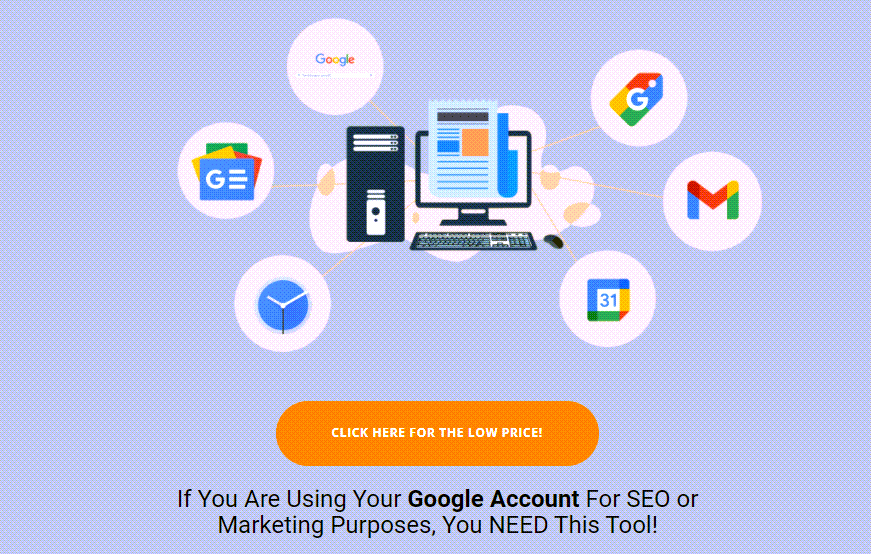 If you have any questions, comments, or suggestions, we would like to hear from you.
For reporting bugs, please email: [email protected]